The biggest question that has been haunting cryptocurrency enthusiasts since its beginning is when crypto would become real money. Bitcoin's white paper, written by Satoshi Nakamoto, uses the term 'electronic cash system'. Despite the extensive use of cryptocurrencies in speculative trading, the eventual goal of Bitcoin is to become real money, not a mere speculative asset.
Bitcoin has had mixed success with respect to its use as money. A few countries have legalised it, but the experiment has yet to yield any positive return. Reports suggest merchants and consumers in El Salvador, the first to legalise Bitcoin, are wary of using it in purchases, perhaps because of the dramatic plunge in its value in 2022. Let's find out the exact answer to whether crypto is real money and what could be the road ahead in 2023.
Cryptocurrency as real money
Money in today's world is all about fiat currencies. These have replaced any other form of money because people hold trust in the backers of fiat currencies — the respective country's government. Cryptocurrencies, in contrast, have no authority that backs their value. This means that a holder of Bitcoin has no guarantee from a sovereign or other authorities like central banks. Altcoins, including Ether and Dogecoin, also have a similar set-up, where no sovereign agency controls issuance and circulation.
For now, only Bitcoin among the tens of thousands of cryptos has found at least some recognition as real money. That said, Bitcoin does not exist in a tangible form, which means transactions can only be carried out using a digital mode. By one measure — because altcoins like Ether are used within their native ecosystems as a medium of exchange — it may be said that they are used as money. However, this usage is very limited.
Cryptocurrencies in 2023
The year 2022 was quite depressing for Bitcoin and all altcoins. Contrary to some expectations that Bitcoin might touch US$100,000 in 2022, it could not even sustain its 2021 value. The headwinds included the failure of big names like FTX, the Terra stablecoin, and TSX-listed broker Voyager. There was virtually no progress with respect to cryptocurrency's use as real money in 2022. The year 2023 could be a testing phase for Bitcoin and altcoins in terms of their prices, with their acceptance as real money in major economies appearing far-fetched.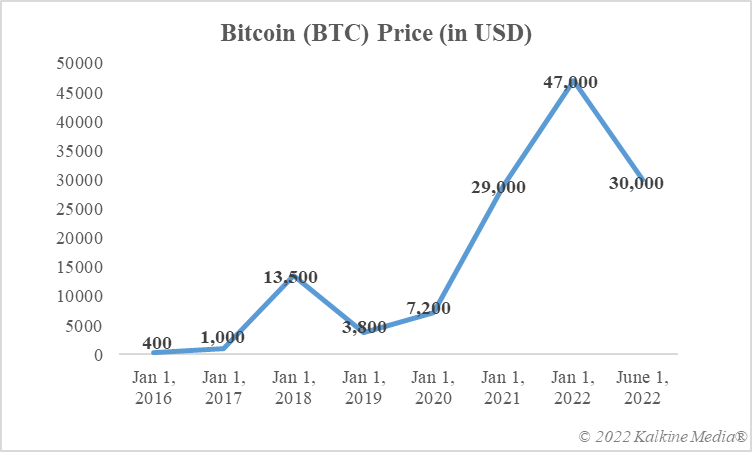 Data provided by CoinMarketCap.com
Bottom line
Cryptocurrency is not real money in the majority of countries. El Salvador has not reported any major breakthrough after legalising Bitcoin as money. In 2022, the market value of the cryptoverse declined sharply, which has further caused concerns over any crypto's broader use as money. What happens in 2023 — regulators toughen stance or more countries accept Bitcoin as legal tender — is a wait-and-watch game.
Risk Disclosure: Trading in cryptocurrencies involves high risks including the risk of losing some, or all, of your investment amount, and may not be suitable for all investors. Prices of cryptocurrencies are extremely volatile and may be affected by external factors such as financial, regulatory, or political events. The laws that apply to crypto products (and how a particular crypto product is regulated) may change. Before deciding to trade in financial instrument or cryptocurrencies you should be fully informed of the risks and costs associated with trading in the financial markets, carefully consider your investment objectives, level of experience, and risk appetite, and seek professional advice where needed. Kalkine Media cannot and does not represent or guarantee that any of the information/data available here is accurate, reliable, current, complete or appropriate for your needs. Kalkine Media will not accept liability for any loss or damage as a result of your trading or your reliance on the information shared on this website.