Bitcoin — a cryptocurrency that rose to fame in an investment rush after the 2020 early-COVID-19 downfall in speculative assets — is construed differently by different people. For some, it is blockchain-based virtual money that can emerge as a strong rival to traditional fiat currencies. For some, cryptocurrency is an asset that can be speculated upon to make near to longer-term gains. Interestingly, for some others, Bitcoin has no intrinsic value.
Today, let us go back in history to know who invented the world's most popular cryptoasset. Besides, it is also important to understand the intention of the creator. Now that Bitcoin has been facing a severe fall in its value over the past one year, looking at these aspects might provide some guidance for the future.
Who invented Bitcoin?
There is a near consensus among all, including cryptocurrency detractors, that Satoshi Nakamoto invented Bitcoin. Whether Nakamoto is an individual or the name adopted by a group comprising many developers is still a puzzle. For most people, Bitcoin is a cryptocurrency, but it is also critical to understand that it is also a protocol, a network with decentralised ledger. The transactions get validated by 'nodes', and the blockchain underpins the entire arrangement.
Notably, the term 'blockchain' is not mentioned even once in the white paper issued by the creator. That said, the terms 'block' and 'chain' find independent mention. The paper is believed to have been published in 2008, and the network and Bitcoin were launched in 2009.
Why was Bitcoin invented?
Regardless of what people think about it — a speculative asset or a digital currency or a bubble — Nakamoto invented it as a 'cash system'. This essentially means that the intention was to have an electronic money system based on blockchain. Here, payments in Bitcoin, including cross-border remittances, could be made without an intermediary. The white paper specifically proposes direct payments without relying on a financial institution as an intermediary. The management of the ledger vests in 'peers' who are geographically distributed.
The invention seemingly did not intend to give the market a speculative asset to bet on. Terms like 'invest' or 'asset' are not mentioned in the white paper, which talks about 'privacy' resembling the information of parties 'released by stock exchanges'. The paper states that Bitcoin can help in electronic transactions recorded in a public ledger, easily accessible by anyone.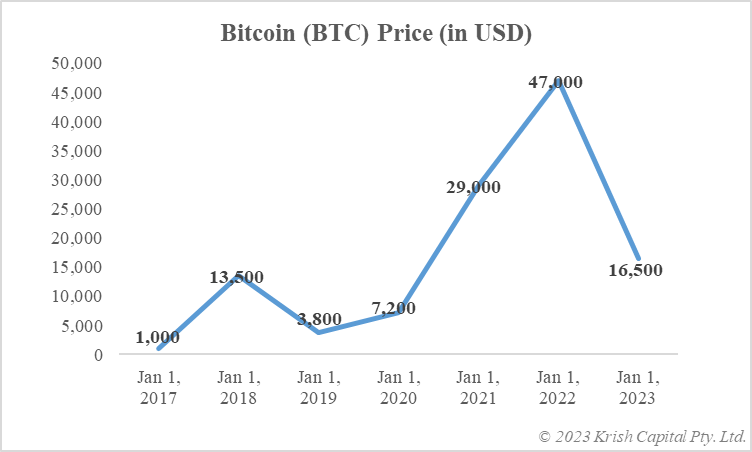 Data provided by CoinMarketCap.com
Bottom line
Invented by Satoshi Nakamoto, the purpose of Bitcoin was to be developed as an 'electronic cash system'. Here, intermediaries like financial institutions have no role and power is vested in 'peers' that manage the recording of transactions on a distributed ledger. The white paper of Bitcoin does not include anything on Bitcoin as an investment asset.
Risk Disclosure: Trading in cryptocurrencies involves high risks including the risk of losing some, or all, of your investment amount, and may not be suitable for all investors. Prices of cryptocurrencies are extremely volatile and may be affected by external factors such as financial, regulatory, or political events. The laws that apply to crypto products (and how a particular crypto product is regulated) may change. Before deciding to trade in financial instrument or cryptocurrencies you should be fully informed of the risks and costs associated with trading in the financial markets, carefully consider your investment objectives, level of experience, and risk appetite, and seek professional advice where needed. Kalkine Media cannot and does not represent or guarantee that any of the information/data available here is accurate, reliable, current, complete or appropriate for your needs. Kalkine Media will not accept liability for any loss or damage as a result of your trading or your reliance on the information shared on this website.